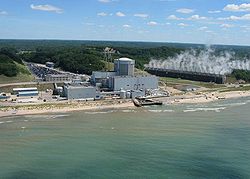 COVERT, MI (WHTC) - Considering what has happened over the past couple of years, no leak should be considered minor at the Palisades Nuclear Power Plant.
Nuclear Regulatory Commission officials disclosed yesterday that about one and a half cups of water an hour is coming out of a valve in the facility's service water system that draws Lake Michigan water to cool pumps, heat exchangers and other equipment during routine operation. Last Thursday's discovery wasn't enough to stop electrical generation at the plant near Covert, as the water isn't considered to be radioactive, and the NRC doesn't think that it poses a public safety threat.
The Palisades plant has had a number of operational-related shutdowns in the past 18 months, including two that lasted a total of six weeks earlier this summer, and the facility's rating was downgraded at the start of the year as a result. Nuclear opponents continue to call for the plant's closure.
Ironically, the report of this leak came on the same day that a scheduled emergency drill was held in a 10-mile radius of the plant, which includes parts of Casco Township in Allegan County.