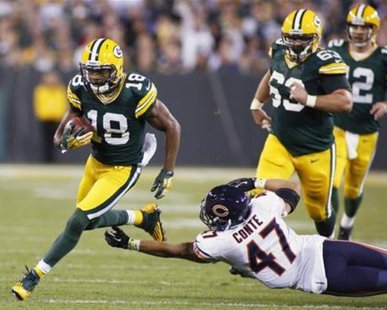 UNDATED (WHTC) - High school football along the Lakeshore this evening features a number of home games. We'll carry the Kenowa Hills at West Ottawa contest on 1450 WHTC and http://whtc.com/listen-live/ at 6:40 PM; the Marcellus at Saugatuck match is on 92.7 The Van and http://927thevan.com/listen-live/ at the same time. Other games include Northview at Holland, Forest Hills Eastern at Holland Christian, Zeeland East at Forest Hills Central, Cedar Springs at Zeeland West, Forest Hills Northern at Hamilton, and Fennville at Lawton.
***
The Tigers' game with the White Sox in Chicago was rained out last night. The two teams will make up the contest at US Cellular Field on Monday afternoon, with broadcast time on 1450 WHTC at 1:45 PM. This evening, the Bengals are in Cleveland, with coverage on Holland's Hometown Station following football, while the Pale Hose travel to Minnesota.
Off yesterday, the Cubs welcome Pittsburgh to Wrigley Field in Chicago this afternoon.
***
Mason Crosby booted three field goals, but it took a fake three-point attempt with less than two minutes remaining, which led to a 27-yard TD pass from holder Tim Masthay to Tom Crabtree, to spark the Packers to a 23-10 victory over the visiting Bears in Green Bay last night. Chicago is home to St. Louis next Sunday.
***
In Hope College sports last night, the women's soccer Dutch defeated Kalamazoo, 2-1. This afternoon, the soccer Flying Dutchmen are home to Carthage at Van Andel Stadium, while the volleyball Dutch are at an invitational in Wittenberg, Ohio, playing host Wittenberg, as well as Otterbein.