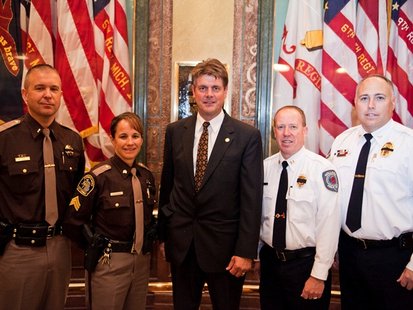 LANSING, MI (WHTC) - Although they were back at work in earnest for the first time since June, state lawmakers didn't overlook the significance of the past on September 11th.
A number of first responders from across Michigan joined House members in a special session yesterday. Amanda Price from Park Township invited Lieutenant Robert Tease and Sergeant Valerie Weiss from the Ottawa County Sheriff's Department, while Chief Matt Messer and Fire Captain Chris Tinney were guests of Joe Haveman of Holland, who said that they and are their colleagues are "what keeps a community a community," and that taking time out from legislative duties for such a commemoration was appropriate.
In the state Senate, a moment of silence was followed by approval of measures that would establish special courts and a judicial advisory committee to deal with veterans' treatment issues.