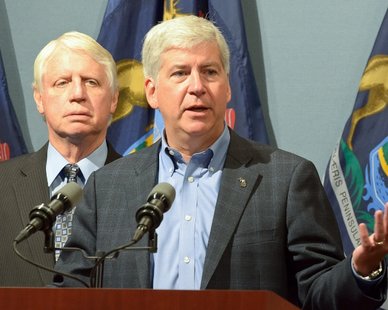 LANSING, MI (WHTC) - The One Tough Nerd is taking on the One Tough Provider.
Governor Rick Snyder announced on Tuesday proposals that his office is calling "sweeping changes" to how Blue Cross Blue Shield of Michigan is regulated. The Ann Arbor Republican wants the state's largest health insurance provider to become a nonprofit mutual company that would be under the Michigan Insurance Code as all other health insurers in the state.
Under the Governor's plan, the Blues would contribute around 1.5 billion dollars over an 18-year span to establish a new entity that funds initiatives for fostering healthier lifestyles, providing better access to health care, and improve public health in Michigan. Seniors would be protected through the freezing of Medigap coverage rates for four years. The Blues currently has 4.4 million subscribers as Michigan's "carrier of last resort."
Mr. Snyder's proposal is in keeping with his pledge in a special health and wellness message to state lawmakers made last year about reinventing health care in Michigan as part of the state's economic recovery. This plan needs approval by the Legislature and the Blues' board of directors before it can be implemented.