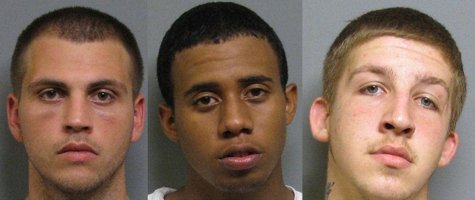 HOLLAND, MI (WHTC) - Three men on an apparent burglary spree on Holland's East Side on Wednesday morning didn't get far.
According to authorities, a worker on break at the Thermotron Building on Brooks Avenue spotted four persons fleeing from a closed gas station on 32nd Avenue near US-31. The vehicle that they ran into was eventually pulled over by officers, and the driver admitted that they were trying to break into the gas station, with burglary tools seized. The others in the vehicle were released pending further investigation.
While 20-year-old Jay Thurman Holland Township man was being booked, a report came of a duplex being broken into in the 300 block of Waverly Road. The homeowner was able to run down one of the suspects, and the other was captured by police a short distance away. It was determined that the two 18-year-old men, Antonio Morgan from Holland's North Side and Shea Skinner from Fennville, were among those that had just been released from the gas station burglary.
All three were arraigned in Holland District Court on Thursday on various charges, with bond set for each at 25 thousand dollars.