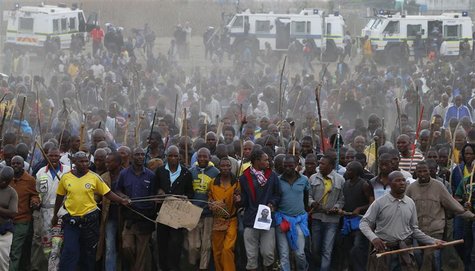 By Olivia Kumwenda
JOHANNESBURG (Reuters) - South Africa's militant AMCU union refused to sign a "peace deal" with platinum company Lonmin on Thursday, undermining government-backed efforts to open pay talks and end a four-week strike scarred by deadly violence.
Though Lonmin, the world's number three platinum producer, signed the accord with the National Union of Mineworkers (NUM) in the early hours, representatives of the Association of Mineworkers and Construction Union (AMCU) declined to put their name to the agreement.
"We didn't sign," AMCU National Treasurer Jimmy Gamma told Reuters.
He declined to give further details, and AMCU-affiliated miners at the Marikana platinum mine where police shot dead 34 striking rock-drill operators last month were unwilling to talk.
On Wednesday, more than 3,000 striking miners marched through streets near the mine, 100 kilometers (60 miles) northwest of Johannesburg, in the largest protest since the August 16 shooting, South Africa's bloodiest security incident since the end of apartheid in 1994.
There was no violence, though some of the stick-waving demonstrators threatened to burn the mine to the ground and kill its management if their demands for better pay and working conditions were not met.
Lonmin shares, which had lost 25 percent of their value since August 16, jumped around 5 percent in early trade in Johannesburg and London amid hopes that the "peace deal" would open up a path to a settlement, despite AMCU's holding out.
Separately, Lonmin said it was open to talks with AMCU on their demands for a hike in base pay to 12,500 rand ($1,500) a month - more than double what they are currently paid, a hike analysts say the company can ill afford.
"There is a peace accord that was signed last night that calls on workers to return peacefully to work and that negotiations will then open with the parties so that the issue of wages can be discussed," Lesiba Seshoka, spokesman for the NUM, told Reuters.
"Workers may return to work either tomorrow or Monday," he added.
Only 4.2 percent of Lonmin shift workers reported for duty on Wednesday. The company is yet to give a figure for Thursday. Shift attendance has been less than 10 percent for the last two weeks.
Earlier signs did not bode well for the deal, with reports of workers trying to return to their posts being intimidated by strikers, according to Gideon du Plessis, general secretary of the Solidarity union of skilled workers, which was also part of the peace accord.
CHALLENGE TO POWER
Marikana accounts for the vast majority of the platinum output of Lonmin, which itself accounts for 12 percent of global supply of the precious metal used in jewellery and vehicles' catalytic converters.
World platinum prices, which spiked more than 2 percent as the Marikana carnage unfolded, have continued to rise, and hit $1,584 an ounce on Thursday, the highest in nearly five months.
The strike has raised worries that labor unrest on the platinum belt could spread to the gold sector. South Africa is home to 80 percent of known platinum reserves and is the world's fourth-largest gold producer.
The violent rise of AMCU in the last 12 months is also the most serious challenge to the unwritten pact at the heart of the post-apartheid settlement - that unions aligned to the ruling ANC deliver modestly higher wages for workers, while ensuring labor stability for big business.
President Jacob Zuma cut short a foreign visit in the immediate aftermath of the Marikana shootings, but his wooden performance and heavily staged-managed meetings with victims and miners has hit his "man of the people" image.
Zuma faces a re-election battle as leader of the ANC in December, and the crisis has given ammunition to critics who say he is compromised by links to industry and the powerful union movement, of which the NUM is a leading player.
($1 = 8.4065 South African rand)
(Additional reporting by Helen Nyambura-Mwaura and Jon Herskovitz; Writing by Ed Cropley; Editing by Will Waterman)