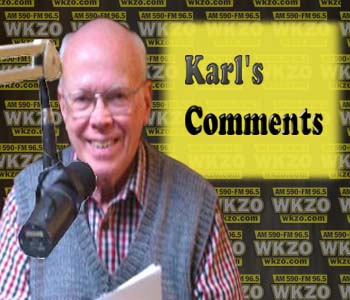 There are those still holding out hope for relief from the dozens of environment-oriented restrictions on energy production in this country. Somehow or other, ethanol gained enough of a foothold in the national conscience to be pushed forward into a substantial, real, alternative to petroleum. I'm guessing the national assumption that ethanol could/would eventually replace gasoline as a motor fuel, and that it would be cheaper, "fueled" that national notion. After all, making the stuff at home, from homegrown corn does lend itself to that kind of thinking.
Actually, of course, ethanol, without government subsidies would be more costly than gasoline from petroleum. The official campaign for ethanol was, and still is a campaign for release from dependency on people who don't like us, for the petroleum we are using. With the acceptance of ethanol as an additive to gasoline, for engines tuned and/or manufactured specifically to accommodate the alternative fuel, came the concern for the production of corn to fuel the ethanol effort. Corn has a lot of other uses - - has had a lot of other uses for a time long enough to inspire researchers and entrepreneurs to seek alternatives to corn. That's probably about the time that switchgrass became a discussion point. So far as I know, switchgrass is a plant. That makes it a valid subject for discussion. And, it has the chemical makeup to suggest ethanol could be extracted from it. Switchgrass also grows very well, in most any soil, under most any climatic conditions.
So I asked Rich Leep, MSU Extension soil scientist specializing in forage and pasture crops, "What about Switchgrass to fuel the ethanol refineries?" Among the things he told me are these: First of all, you can't just shunt the flow of corn off to a siding, and introduce a stream of switchgrass. The chemical and mechanical apparatus is very much different for switchgrass, and other possible grasses, compared with corn. Secondly, he said, we are not yet sure whether switchgrass is or will be in sufficient quantity, so that ethanol from plants other than corn is first of all possible, and then would it be profitable.
Since that time, several years ago, Michigan State University and a number of other ag research organizations have been working with several varieties of switchgrass.
Now, according to word from the USDA, Chemtek, International, headquartered in Pennsylvania, has a loan guarantee from Washington,,, to construct a 20-million gallon-per-year cellulosic ethanol refinery in easternNorth Carolina. Ag Secretary Tom Vilsack says the plant, when it's operational, will provide more than 300 jobs. Again, once it's operational, is expected to convert 600 thousand tons of energy grasses - - I guess that means more than just switchgrass - -into twenty million gallons of cellulosic ethanol.
Interesting to note this project has roots - - no pun intended - - in Pennsylvania, and in North Carolina. A couple of states much in the news recently.
Karl Guenther is a retired farm broadcaster at WKZO and can be reached at khguenther@charter.net He is a member of Michigan Farm Bureau and an emeritus member of the National Association of Farm Broadcasting.