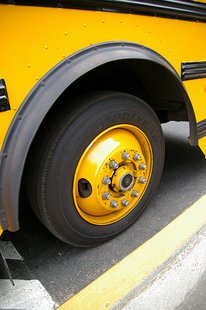 KALAMAZOO (WKZO) -- Its back to school for 49-million American school children, 3.5 million of them are kindergartners, and while only a tiny fraction of that total will be going back to school in West Michigan, its best to keep your eyes peeled for them as you leave for work this morning, and obey the commands you get from the school bus driver.
Police agencies plan to vigorously enforce school speed zones.
Kalamazoo Schools had celebrity greeters on hand this morning when elementary buses rolled up to the schools. Politicians, TV and radio personalities and school trustees shook the hands and greeted the children as some dodged rain drops this morning.
The new feature in Portage Public schools this year, and several other area districts is all-day Kindergarten. School districts weren't mandated by the state, but given a big financial disincentive if they didn't introduce what they now call "All-day-K".