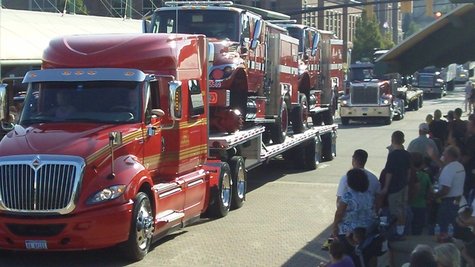 HOLLAND, MI (WHTC) - It may not rival Tulip Time in popularity and longevity, but two relatively new Labor Day traditions in the Holland/Zeeland area have become entrenched.
The eighth annual Labor Day Truck Parade rollled through the downtown districts of both Zeeland and Holland this morning, concluding at the Holland Civic Center's parking lot for refreshments and displays. Event Coordinator Carla Flanders says that they had to turn away some entries, as over 60 big rigs will participated.
Meanwhile, the Walk the Boardwalk event along the southeastern edge of Lake Macatawa was held prior to the truck parade, concluding with a pancake breakfast on Windmill Island. Holland's Recreation and Civic Center Manager Jeremy Meyer says that this is a fund raiser for the Sal Perez Youth Recreation Scholarship fund. Almost four thousand dollars was raised last year for needy families to have access to local recreational activities.