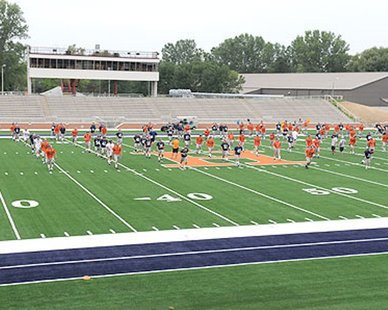 UNDATED (WHTC) - Hope College begins a new football season this afternoon, hosting North Park at Holland Municipal Stadium. Coverage on 92.7 The Van and http://927thevan.com/listenlive begins at 1:10 PM. Grand Valley State also starts a new gridiron campaign today, playing at Western Oregon.
In state major college football last night, Michigan State rallied past visiting Boise State, 17-13. This afternoon, Western Michigan travels to Illinois; Michigan faces Alabama in suburban Dallas this evening.
***
Delmon Young's three-run double in the seventh inning broke a 4-4 tie, and the Tigers defeated the visiting White Sox last night, 7-4. The series at Comerica Park in Detroit continues this evening. Broadcast time on 1450 WHTC is at 6:40 PM.
Alfonso Soriano homered and drove in three runs, powering the Cubs past visiting San Francisco yesterday, 6-4. The series at Wrigley Field in Chicago continues this afternoon.
***
Erik Cabrera and three relievers teamed on a two-hit shutout, as Fort Wayne eliminated the visiting Whitecaps from playoff consideration last night, 7-0. West Michigan begins a season-ending, three-game series versus visiting Dayton at Fifth Third Ballpark this evening.
***
On yesterday's Hope College sports scoreboard: The volleyball team defeated Mount Union in four sets and Otterbein in straight sets; the men's soccer team fell in overtime to DePauw, 3-2; and the women's soccer team lost to Elmhurst, 1-0.