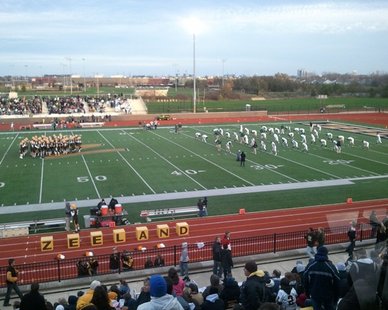 UNDATED (WHTC) - Three of the five Lakeshore teams in the MHSAA football championship tournament advanced with first-round victories on Friday night. West Ottawa earned a rematch with Rockford in Division 1 by downing visiting Grand Ledge, 21-14. In Division 3, Zeeland West won a rematch with Zeeland East, 46-0, and earned a second-round visit to Grand Rapids Christian, while Hamilton was victorious at Edwardsburg, 42-14, and will travel to Stevensville-Lakeshore, a 48-28 victor over visiting Holland Christian. Official dates and times of second-round contests, along with broadcast plans on 1450 WHTC and 92.7 The Van, are to be announced.
***
Hope College hosts Trine on a busy sports Saturday for the Holland-based school. Hear that game on 92.7 The Van and http://927thevan.com/listen-live/ at 12:40 PM. Other action has the volleyball Dutch in South Bend to face host St. Mary's and Wheaton; the cross-country teams compete in the MIAA championship meet at Albion; the soccer Dutchmen visit Trine and the soccer Dutch travel to Calvin; and the swimming and diving teams welcome Alma and St. Mary's to the Dow Center for a meet. On Friday, the volleyball Dutch downed visiting Trine in straight sets.
***
It's game three of the World Series in Detroit on Saturday evening, as visiting San Francisco leads the Tigers in the best-of-seven set, two games to none. Coverage from Comerica Park with Dan Shulman and ex-Giants pitcher Orel Hershier on 1450 WHTC begins at 7 PM.
***
College football action on Saturday finds Grand Valley State traveling to Hillsdale; Michigan State invading Wisconsin; Michigan playing under the lights at Nebraska; Western Michgian hosting Northern Illinois at 12 Noon; Central Michigan home to Akron; and Eastern Michigan visiting Bowling Green State.
***
Chris Terry's two goals in the third period capped a Charlotte comeback from a 4-1 deficit, as the Checkers rallied to beat the Griffins in Grand Rapids last night, 6-4. The Rockford Ice Hogs comes to Van Andel Arena to face the Griffs on Saturday evening.
***
In final pre-season tuneups on Friday night, the Pistons beat visiting Atlanta, 104-88, while the Bulls handled visiting Indiana, 97-90. Regular-season play begins on Wednesday evening at home for both Detroit and Chicago, as Houston comes to the Palace and Sacramento invades the United Center.