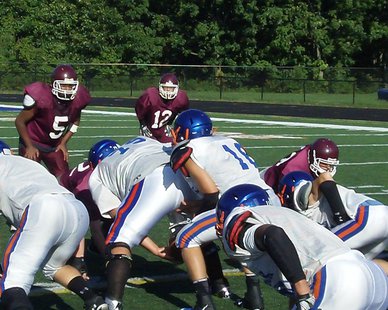 UNDATED (WHTC) - The state high school football tournament begins this evening with four games involving five Lakeshore teams. The Grand Ledge at West Ottawa contest is on 1450 WHTC and http://whtc.com/listen-live/ at 6:40 PM; the Zeeland East-Zeeland West match is on 92.7 The Van and http://927thevan.com/listen-live/, also at 6:40 PM. The other games are Holland Christian at Stevensville Lakeshore and Hamilton at Edwardsburg.
***
Hope College athletics last night saw the women's soccer Dutch blank visiting St. Mary's, 2-0. This evening, the volleyball Dutch are home to Trine. Tomorrow afternoon at 12:40 on 92.7 The Van and http://927thevan.com/listen-live/, hear the Flying Dutchmen host Trine in football action at Holland Municipal Stadium.
***
NFL action last night saw Tampa Bay win at Minnesota, 36-17. Catch the Lions' game with Seattle from Ford Field in Detroit this Sunday at 12 Noon on 1450 WHTC.
***
The Grand Rapids Griffins entertain Charlotte in American Hockey League play at Van Andel Arena this evening.
***
Both the Pistons and the Bulls have their final pre-season tune ups tonight at home, as Detroit entertains Atlanta and Chicago hosts Indiana.