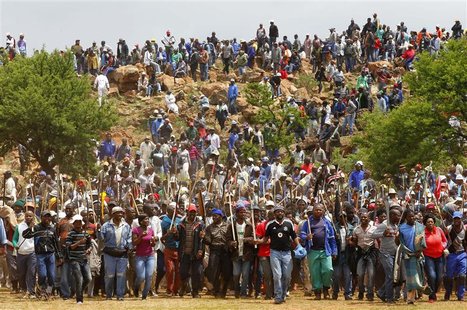 By Olivia Kumwenda
JOHANNESBURG (Reuters) - AngloGold Ashanti said it will sack 12,000 South African wildcat strikers who ignored a deadline to return to work on Wednesday, the latest company to resort to mass firings after weeks of crippling labor unrest.
Several mining firms have told strikers to return to work or lose their jobs in a last-ditch move to resolve the widening strikes that have poisoned labor relations and marred the image of Africa's top economy.
AngloGold, the world's third-largest bullion producer, had given strikers until noon (1000 GMT) on Wednesday to return. About 12,000 employees at its West Wits operation failed to return, spokesman Alan Fine said.
"The deadline has now passed and that means the process of issuing dismissals would begin now," he told Reuters.
About 24,000 AngloGold employees at the West Wits and Vaal River complexes - the majority of its workforce - had gone on strike. Fine said that workers at the Vaal River complex were back at work.
A total of about 100,000 workers have downed tools for better pay in South Africa since August, a wave of strikes that has sparked two credit downgrades for the country as a whole.
Coal miner South African Coal Mining Holdings said earlier on Wednesday that some of its operations had been interrupted due to a new union-led strike over wages.
AngloGold rival Harmony Gold has also given wildcat strikers an ultimatum to return to work on Thursday.
Anglogold is the latest case where the hardball tactic has failed to get substantial numbers of strikers back to work.
Gold Fields, the world's fourth-largest bullion producer, sacked 8,500 wildcat strikers at its KDC East mine on Tuesday after they ignored an ultimatum. Anglo American Platinum (Amplats), the world's largest platinum producer, also sacked 12,000 at its Rustenburg operations earlier this month.
Anglo American said last week that it would now be delaying the dismissal process at its Union and Amandelbult operations, where it employs 20,500 people. It also said it was open to discussing the reinstatement of the sacked workers with unions.
Shares of AngloGold Ashanti were flat at 285 rand.
(Reporting by Olivia Kumwenda; editing by David Dolan and Patrick Graham)