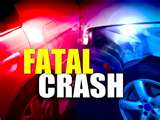 DORR (WKZO) -- Allegan County Deputies have identified the pick-up truck driver who tangled with a semi and lost this week.
It happened at about 7 Thursday morning at the intersection of 142nd and Kalamazoo Avenue near Dorr. Dead is 57-year-old Kenneth Earl Near of Middleville. He was killed when he blew through a stop light in Allegan County and was crushed by a Semi-truck that had the right of way.
He was extricated from the wreck of his truck,. and rushed to the hospital where he was dead on arrival. The semi driver was identified as Chris Levi Bromley, a 56 year old male from Wayland. He was not injured. The roadways were blocked for about 3 hours.