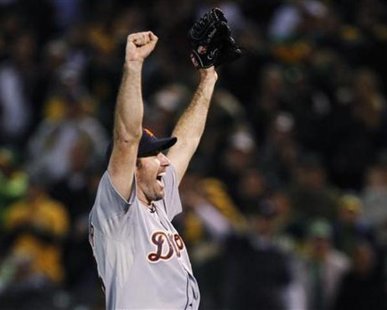 UNDATED (WHTC) - High school football along the Lakeshore resumes this evening. At 6:40 PM, hear the Holland Christian at Holland game on 1450 WHTC and http://whtc.com/listen-live/, or the Saugatuck at Bangor contests on 92.7 The Van and http://927thevan.com/listen-live/. Other match ups include West Ottawa hosting East Kentwood; Zeeland East home to Mona Shores; Zeeland West visiting Hamilton; and Fennville traveling to Gobles.
***
Justin Verlander tossed a four-hit shutout, striking out 11 in the process, as the Tigers won at Oakland last night, 6-0. Detroit takes the best-of-five American League Divisional Series, three games to two, and awaits the winner of this evening's Baltimore at New York Yankees contest to open the best-of-seven AL Championship Series tomorrow night. If the Orioles win, the first game will be at Comerica Park in Detroit; if the Yankees win, then the Bengals play in the Bronx.
***
In Hope College athletics last night: The soccer Dutch won at Trine, 2-0. Today, the cross country teams compete in a meet hosted by Muskegon Community College, while the golfing Dutch are in the MIAA championship tournament at Bedford Valley Country Club. This evening, the six-team Midwest Volleyball Invitational is at DeVos Fieldhouse, with the Dutch facing Wisconsin Lutheran and Wisconsin-Whitewater.
***
College football tonight finds Central Michigan home to the US Naval Academy. Tomorrow at 1:40 PM on 92.7 The Van and http://927thevan.com/listen-live/, Hope hosts Alma for homecoming at Holland Municipal Stadium.
***
The Grand Rapids Griffins start a new American Hockey League season this evening by welcoming Milwaukee to Van Andel Arena.
***
Exhibition basketball tonight has the Pistons in Toronto and the Bulls hosting Cleveland.