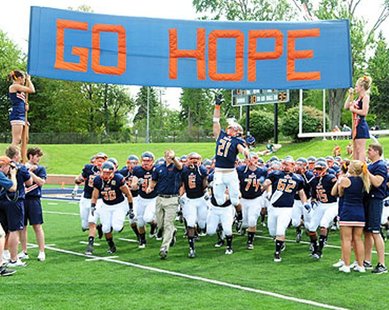 HOLLAND, MI (WHTC) – Michael Atwell threw for 261 yards and three touchdowns, leading Hope past visiting Olivet on Saturday, 24-14. The Flying Dutchmen entertain Alma next Saturday afternoon, with broadcast time on 92.7 The Van and http://927thevan.com/listen-live/ at 1:40 PM.
In other Hope sports on Saturday: The soccer Dutch fell at St. Mary's, 1-0; the soccer Dutchmen won at Kalamazoo, 4-1; the golfing Dutch finished third in a MIAA Jamboree at Adrian; and the volleyball Dutch downed Adrian in straight sets.
***
Redshirt freshman quarterback Jason Vander Laan ran for 185 yards and two touchdowns, as visiting Ferris State beat Grand Valley State on Saturday night, 40-24. The Lakers travel to Northern Michigan next Saturday.
***
In state major college football on Saturday: Michigan State 31, Indiana 27; Michigan 41, Purdue 13; Western Michigan 52, Massachusetts 14; Toldeo 50, Central Michigan 35; and Kent State 41, Eastern Michigan 14.