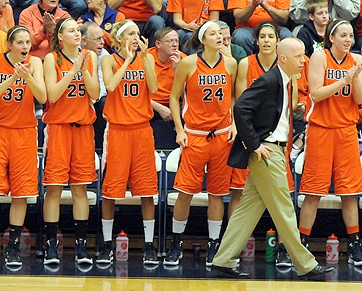 UNDATED (WHTC) - Meredith Kussmaul scored 14 points as Hope won at Kalamazoo last night, 87-37. It was the Flying Dutch's 44th straight victory over the Hornets. The Orange and Blue host Trine on Saturday afternoon.
Grand Valley State's basketball teams begin conference play this evening at Ashland.
In state major college basketball last night: Michigan State lost at Miami of Florida, 67-59; and Central Michigan fell to visiting Bradley, 82-65. This evening, Western Michigan is home to High Point.
***
NFL action at 8 PM on 1450 WHTC this evening finds New Orleans visiting Atlanta.
***
Brandon Knight and Charlie Villanueva each scored 19 points to lead the Pistons past visiting Phoenix last night, 117-77. Detroit travels to Memphis tomorrow evening.
The Bulls beat visiting Dallas last night, 101-78, as Luol Deng tossed in 22 points for Chicago. Philadelphia comes to the United Center on Saturday evening.
***
High school girls' basketball along the Lakeshore tonight has Black River visiting Grand River Prepatory.