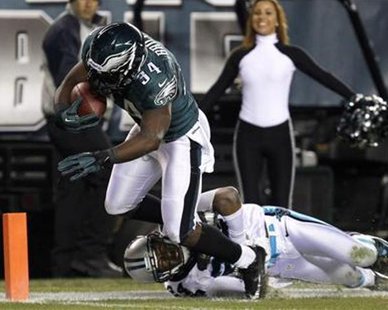 UNDATED (WHTC) - In a NFL game you heard on 1450 WHTC last night, Carolina won at Philadelphia, 30-22. The Panthers' Cam Newton passed for two touchdowns and ran for two more, offsetting a 178-yard, two-TD rushing performance by Eagles' rookie Bryce Brown. Catch the New Orleans at Atlanta contest on Thursday evening at 8 PM on Holland's Hometown Station. Next Monday night at 8 PM on 1450 WHTC, it's the New York Giants at Washington.
***
Brandon Knight scored 26 points as the Pistons beat visiting Portland last night, 108-101. Detroit is home to Phoenix tomorrow evening.
Despite 30 points from Richard Hamilton, the Bulls blew a 27-point third quarter lead and lost to visiting Milwaukee last night, 93-92. Chicago hosts Dallas tomorrow evening.
***
In state major college basketball last night, Oakland fell at Tennessee, 77-50. This evening, Michigan entertains North Carolina State and Detroit travels to Bowling Green State.