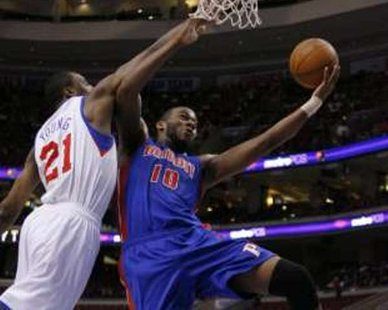 UNDATED (WHTC) - Greg Monroe scored 19 points, grabbed 18 rebounds, and dished out six assists, as the Pistons finally won their first game of the season by beating the 76ers in Philadelphia last night, 94-76. Now 1-8 on the campaign, Detroit is home to Orlando at the Palace tomorrow evening.
Carlos Boozer tossed in 28 with 14 caroms, but the Bulls needed overtime to outlast the Suns in Phoenix last night, 112-106. Chicago continues its western trip in Los Angeles on Saturday night against the Clippers.
***
NFL action on 1450 WHTC at 8 PM this evening finds Miami visiting Buffalo. On Sunday, hear the Green Bay-Lions game at 12 Noon, followed at 7:30 PM with Baltimore versus Pittsburgh, on Holland's Hometown Station.
***
Hope College's two basketball teams begin regular season play tomorrow with tournament action. While the Flying Dutch take on Denison at Wilmington, Ohio, the Flying Dutchmen battle College of Faith in Naperville, Illinois, with coverage of that game on 92.7 The Van and http://927thevan.com/listen-live/ at 3:10 PM.