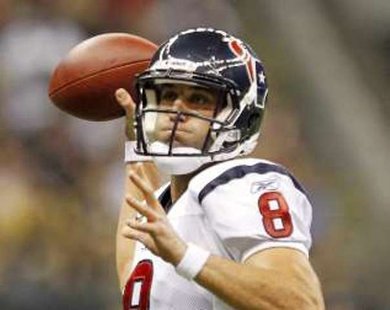 UNDATED (WHTC) - Christian Ponder threw for two touchdowns, and Blair Walsh booted four field goals, as Minnesota beat the visiting Lions yesterday, 34-24. Detroit hosts Green Bay next Sunday, with coverage on 1450 WHTC following Hope Church services around 12 Noon.
Matt Schaub's two-yard touchdown pass to Arian Foster with 4:14 left in the first half was the difference for visiting Houston in last night's 13-7 win over the Bears. Chicago travels to San Francisco next Monday evening in a game that is on Holland's Hometown Station at 8 PM.
On Monday Night Football this evening at 8 PM on 1450 WHTC, it is Kansas City at Pittsburgh.
***
Grand Valley State begins its two basketball seasons at home tonight, with the men hosting Michigan-Dearborn, followed by the women entertaining Olivet.
In state major college basketball yesterday: Eastern Michigan fell at Jacksonville, 61-54; and Oakland lost at Louisiana-Lafayette, 90-79. This evening, Michigan is home to Indiana-Purdue-Indianapolis, while Central Michigan travels to Iowa.
***
NBA play tonight finds the Pistons hosting Oklahoma City at the Palace and the Bulls welcoming Boston to the United Center.