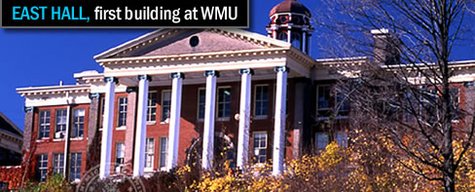 KALAMAZOO (WKZO) -- Western Michigan University says it's found a home for their historic archives. They plan to demolish the Noble Lodge at Oakland and Howard and use part of that lot for the new facility. Demolition and a groundbreaking will both take place in July and construction will follow.
Western Michigan University Vice President Bob Miller presented plans to officials and homeowners in the neighborhood adjacent to the project Tuesday night. He says the Lodge itself has structural issues, and the current home of the Archives in East Hall on East Campus also has issues that make it less than ideal for storing documents and artifacts.
The new structure, funded by private gifts, will have all the equipment and environmental controls necessary to preserve and protect historic and precious documents and property.There was a much publicized plan to move the archives to the old K-Mart on Stadium, but that never happened.
The Archives currently takes up about 28-thousand square feet of space and will no doubt grow. It includes historic University, Regional and local Governmental records, oral histories, census records, a research collection of books, magazines and newspapers and several large photographic collections.
The Noble Lodge was named for a former hospital superintendent. It served as a dorm for Hospital staff and more recently was turned into a half-way house for the Department of Corrections. It has been unoccupied since 2005.