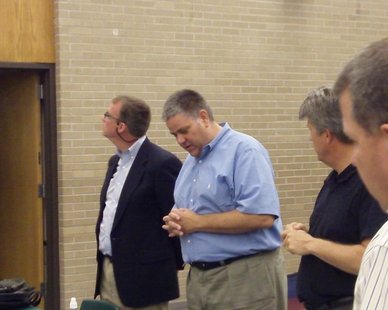 ZEELAND, MI (WHTC) - Dr. Dave Barry still has his job, but has has "learned a lot about leadership in the last two weeks."
The first-year superintendent of Zeeland Public Schools was suspended without pay for two weeks, along with being ordered to talk about his experiences at all district school buildings next fall, after an over three-hour closed door meeting with the Zeeland Board of Education on Thursday afternoon. On a 6-1 vote, the board approved the disciplinary action after Dr. Barry admitted to, and apologized for, plagiarising from an online blog posting by an education advocate in an article attributed to the school chief in this month's district employee newsletter. In handing down the board's decision, President Tom DenHerder said that the action was "necessary ... because we have found more than one instance of plagiarism committed by Dr. Barry."
The lengthy closed-door meeting was in keeping with the board's actions since this story broke a week ago, as DenHerder said at the time that he and his colleagues would conduct a thorough internal investigation. Just as was the case during the regular monthly meeting on Monday, the board during the special Thursday meeting heard from both sides of the issue in public comments; a parent suppportive of Dr. Barry and one asking for his ouster "or his resignation" made remarks prior to the closed-door session.
The suspension means that Dr. Barry will not be in attendance for Zeeland's two high school graduations next week, with East's seniors getting their diplomas on May 30, and West the following evening.