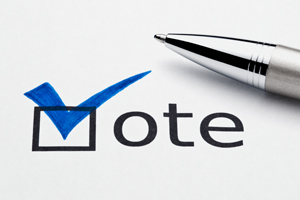 UNDATED (WHTC) - The deadline for candidates to file for the August 7 primary election in Michigan passed at 4 PM yesterday.
One-time US House Representative Pete Hoekstra of Holland will have four other men challenging him for the Republican nomination in the US Senate race. Hoekstra, Clark Durant, Gary Glenn, Pete Konetchy and Randy Hekman are vying to see who will face two-term incumbent Democrat Debbie Stabenow in November. Meanwhile incumbent Congressman Fred Upton has a primary battle ahead with former state lawmaker Jack Hoogendyk, with the winner going on to meet Democrat Mike O'Brien of Douglas in November; first-term Congressman Bill Huizenga of Zeeland has no listed primary or general election challengers.
State Representative Bob Genetski, who ran unopposed two years ago, is challenged in the GOP primary by one-time Allegan County Commissioner Randy Brink, who lost out to Rick Jones in the Republican primary for a state Senate seat two years ago; Stuart Peet of Shelbyville is running as a Democrat. Amanda Sue VanEssen and Roger Victory vie in the GOP primary for the state House seat that Dave Agema is giving up due to term limits, with no Democrat listed. Holland's Joe Haveman will have a second straight state House reelection bid go unchallenged, while Amanda Price awaits a general election meeting with Democratic challenger Don Bergman.
In Ottawa County, four incumbent commissioners are not running for reelection - Bob Karsten, Jane Ruiter, Roger Rycenga and Dennis Swarthout. Five others are facing primary challenges. There are three Republicans but no Democats seeking the Drain Commissioner post that Paul Geerlings is stepping down from, while Sheriff Gary Rosema, Prosecutor Ron Frantz, Drain Commissioner Brad Slagh, and Clerk/Register of Deeds Dan Kreuger are all running for reelection without competiton. Judges Jon Van Allsburg, William Baillargeon, Michael Buck and Mark Feyen are all seeking reelection with no challengers, while Craig Bunce, Vern Helder and Chris Houghtalking want an Ottawa County District Court Judgeship.
Perhaps the biggest story locally is in Saugatuck Township, where four of the five board members aren't seeking reelection. Only Supervisor Bill Wester is running for another term, with Jim Hanson, Pat Knikelbine, Chris Roerig and Jane Wright stepping down. The board has been involved in a protracted legal battle with developer Aubrey McClendon over zoning issues involving land he owns near the mouth of the Kalamazoo River.
Candidates have until Friday to opt out before ballots are printed.