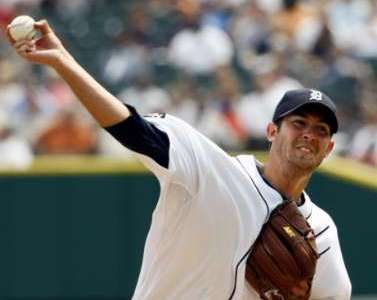 UNDATED (WHTC) - Solo home runs by Andy Dirks, Prince Fielder and Austin Jackson enabled the Tigers to beat the visiting White Sox yesterday, 3-1. Rick Porcello allowed just one run on four hits with five strikeouts over six-and-a-third innings of work to get the pitching victory for the Bengals. While Chicago travels to Cleveland for a matinee this afternoon, Detroit flies to Seattle for a game against the Mariners late this evening, with coverage on 1450 WHTC at 9:45 PM.
A bases-loaded walk to David DeJesus in the bottom of the 11th inning forced in the winning run, as the Cubs outlasted the visiting Dodgers yesterday, 4-3. Chicagois home to Atlanta at Wrigley Field tonight.
***
Run-scoring doubles by Andy Burns and Carlos Perez in the sixth inning enabled Lansing to edge the visiting Whitecaps yesterday, 4-3. The series at Cooley Law School Stadium in the state Capitol continues this evening.
***
Spencer Hawes scored 22 points as Philadelphia defeated the visiting Bulls yesterday, 89-82, to take a three-games-to-one advantage in the NBA playoff series. Game five is at the United Center in Chicago tomorrow night.