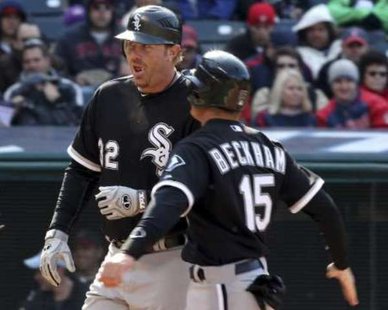 UNDATED (WHTC) - Adam Dunn's two-run homer off of Jose Valverde in the top of the ninth inning enabled the visiting White Sox to defeat the Tigers on Saturday, 3-2. The rubber game of the series at Comerica Park in Detroit is on Sunday, with coverage on 1450 WHTC beginning at 12:40 PM.
Chris Capuano scattered three hits with seven strikeouts over seven shutout innings, and helped his own cause with a two-run double in the second frame, as the visiting Dodgers beat the Cubs on Saturday, 5-1. The rubber game of the series at Wrigley Field in Chicago is on Sunday.
***
Aaron Sanchez and Justin Nicolino teamed on a two-hit shuout, as they pitching Lansing past the visiting Whitecaps on Saturday night, 2-0. The series at Cooley Law School Stadium in the state Capitol continues on Sunday.
***
Game four of the NBA playoff series between the Bulls and Philadelphia is on Sunday at the Wells Fargo Center, with the 76ers leading visiting Chicago, two games to one.