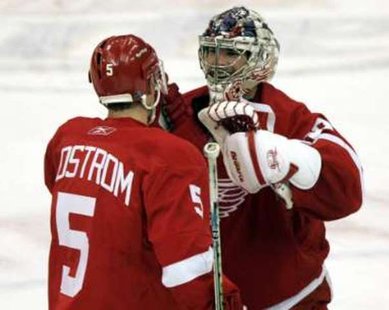 UNDATED (WHTC) - Tomas Holmstrom scored twice, while both Todd Bertuzzi and Henrik Zetterberg had four assists, as the Red Wings defeated visiting Columbus last night, 7-2, clinching a playoff berth for a 21st straight season. The two teams have a rematch at Nationwide Arena in Columbus tomorrow evening, with coverage on 1450 WHTC beginning at 7:10 PM.
The Chicago Blackhawks skate in New Jersey against the Devils this evening, as Joel Quenneville's Hawks are coming off a 5-1 loss at home to Nashville on Sunday night.
***
Rodney Stuckey capped a 24-point performance by hitting a jumper with two tenths of a second left to give the Pistons a 79-77 victory at Washington last night, snapping a five-game losing streak in the process. Detroit visits Cleveland tomorrow evening.
Ty Lawson's 27-point performance enabled visiting Denver to beat the Bulls last night, 108-91, snapping Chicago's four-game winning streak. The Bulls are in Atlanta tomorrow evening.
***
Exhibition baseball yesterday saw the Tigers play a 10-inning, 3-3 tie with Miami; the Cubs blank San Diego, 2-0, but lose to Arizona, 3-2; and the White Sox fall to the Dodgers, 4-3. Today, the Tigers take on Houston, the Cubs face Cincinnati, and the White Sox go up against Cleveland.