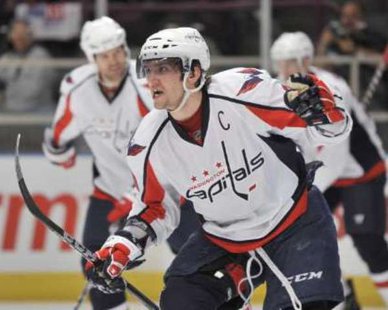 UNDATED (WHTC) - Alexander Ovechkin scored twice as visiting Washington defeated the Red Wings last night, 5-3. Detroit is in New York to face the Rangers tomorrow evening. Broadcast time on 1450 WHTC is at 7:10 PM.
The Chicago Blackhawks take on the Blue Jackets in Columbus this evening.
***
Carlos Boozer tallied 24 points and grabbed 13 rebounds, leading the Bulls to an 85-59 victory at Orlando last night. Chicago travels to Toronto for a game against the Raptors tomorrow evening.
***
The Grand Rapids Griffins begin a two-game series in San Antonio versus the Rampage tonight.
***
Oakland University entertains Rice in a College Insider Tournament quarterfinal game this evening.
***
Exhibition baseball yesterday saw the Tigers lose to Philadelphia, 4-3; the Cubs beat Seattle, 12-7; and the White Sox get blanked by Cincinnati, 1-0. Today, the Tigers face Atlanta, the Cubs take on both Texasand Oakland, and the White Sox are not in any competition.