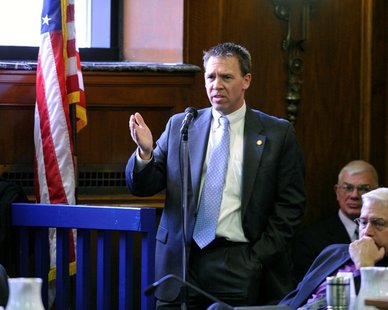 EAST LANSING, MI (WHTC) - Was Michigan State University just following the law, or was it trying to protect a state lawmaker who could have influence on how much money the Spartans would get from Lansing?
An apparently edited video of Bob Genetski's arrest on January 19th by a MSU campus police officer was released to M-Live Media Group in response to a Freedom of Information Act request. The entire proceeding was shown during an administrative court hearing on Monday into whether or not the House Representative from Saugatuck would lose his driving privileges for refusing to take a breathalyzer test. Genetski had been pulled over while driving from a post-State of the State Address reception to a local hotel, and spent some hours in jail before being released on bail.
However, in the version released to the media, six minutes of scenes where Genetski was taking field sobriety tests were removed for personal privacy reasons, according to school officials, who claim that they were just "following the law." A full written statement by the officer about the details of Genetski's arrest was also edited prior to public release, omitting the details of Genetski's field test.
Representatives of M-Live and the Michigan Press Association argue that the entire video should have been released, and some observers wonder if MSU is trying to shield Genetski, who chairs the House Appropriations Subcommittee on Higher Education, which has a say on funding for state colleges and universities. There was no word on whether those media entities would take legal action to force MSU to a full disclosure.
Genetski is currently free on bond pending further hearings into the drunken driving charges, and the hearing on his driving privileges was recessed until sometime later this month to allow his defense attorney more time to access more documentation.