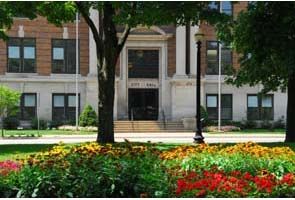 UNDATED (WHTC) - A venue that saw its fair share of debate on the gay rights issue a year ago is again at the center of this subject tonight.
The state Department of Civil Rights holds a two-hour public hearing in Council Chambers at Holland City Hall, beginning at 7 PM. The panel will be looking for comment on a proposed extension of the 1976 Elliot-Larsen Civil Rights Act to include lesbians, gays, bigenders and transsexuals to the protected classes list of this anti-discrimination legislation.
A similar amendment proposal to Holland's ordinances was shot down by council on a 5-4 vote, leading to an outcry from gay rights advocates locally and statewide. Opponents counter that such inclusion would lead to a crackdown on speech and religious freedoms, that citing Scripture in saying that homosexuality is a sin would violate LGBT rights.
No decision on this matter will be made tonight, as department officials will be going over public input from this and other hearings statewide before rendering a ruling later this fall.