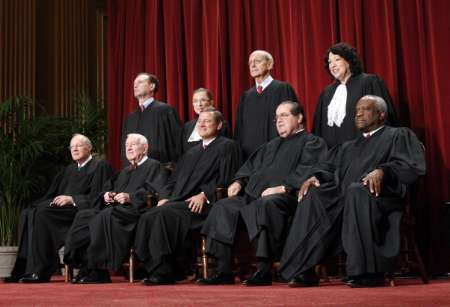 WASHINGTON (WHTC) - The US Supreme Court on Monday struck down three of four provisions of Arizona's controversial immigration enforcement law, saying that the provisions that requires immigrants to carry papers and forbids undocumented residents from applying for employment were unconstitutional due to encroaching the federal government's powers to regulate immigration. However, the high court did let stand a provision that would allow state and local officers in Arizona to immigration status of those they suspect may be in this country illegally. Some SCOTUS observers say that the decision on this last provision could still be challenged in future court proceedings.
Arizona, on the southwest border with Mexico, two years ago became the first of a handful of U.S. states to pass laws aimed at driving illegal immigrants out, including requiring police to check the immigration status of anyone detained and suspected of being in the country illegally.
The battle over the law goes to the heart of a fierce national debate between Democrats and Republicans over what to do with the roughly 11 million illegal immigrants in the country. Critics have said the Arizona law could lead to ethnic and racial profiling of the fast-growing Hispanic population in the United States. Hispanics are the largest U.S. minority group.
This was one of two high-profile cases still open as the current session of the Supreme Court winds down. With the announcement of the Arizona ruling, observers believe that the high court is now not expected to disclose its verdict on the constitutionality of the health care reform package until Thursday.
-Reuters contributed to this report