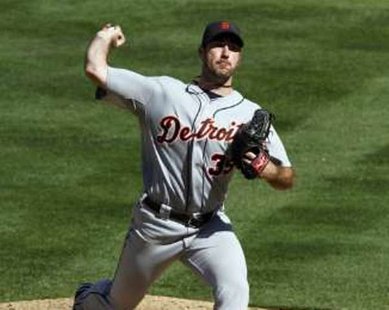 UNDATED (WHTC) - Delmon Young's single in the eighth inning plated the winning run to support Justin Verlander's complete-game pitching, as the Tigers salvaged the finale of a weekend series at Pittsburgh on Sunday, 3-2. Detroit opens a three-game set at Texas on Monday night. Coverage on 1450 WHTC begins at 7:40 PM.
Wade Miley allowed just three hits and struck out seven in eight innings, pitching Arizona past the visiting Cubs on Sunday, 5-1. Chicago begins a three-game series against the New York Mets at Wrigley Field on Monday evening.
Eduardo Escobar's single in the 10th inning enabled the White Sox to edge visiting Milwaukee on Sunday, 1-0. Chicago opens up a three-game series at Minnesota on Monday night.
***
Visiting South Bend scored three runs in the seventh inning off of Nick Avila to beat the Whitecaps on Sunday, 4-1. West Michigan begins a three-game series versus Bowling Green at Fifth Third Ballpark on Monday evening.