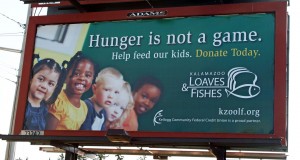 UNDATED (WKZO) -- Local food pantries and distribution operations are keeping a close eye on Congress and work on the Farm Bill hoping that food programs like SNAP, Food Stamps and programs that help the elderly, pregnant women and children are funded because they say they won't be able to pick up the slack if they go down.
The operators of nearly 3-dozen regional food programs held a round table with USDA undersecretary Kevin Concannon this week in Kalamazoo.
Concannon says when it comes to food insecurity, these are still the toughest times since the depression. Loaves and Fishes director Anne Wend Lipsey says recent changes in state tax breaks haven't helped.
Bob Randels with the Food Bank of South Central Michigan in Battle Creek says lobby your congressman to fund the food programs in the farm bill.
One in four Americans now depends on food assistance of one form or another to get by. They say the bulk of it comes from federal programs that help the poor.