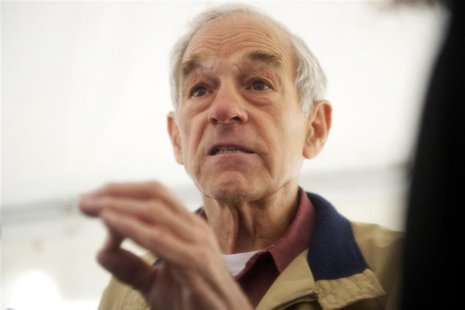 (Reuters) - Police said a Ron Paul supporter was arrested and complained of injury after refusing to leave the Louisiana Republican State Convention on Saturday, a boisterous event where backers of the Texas congressman argued for a greater voice.
The fracas follows Paul's decision last month to suspend active campaigning for the Republican presidential nomination, which Mitt Romney clinched on Tuesday with a resounding victory in the Texas primary.
Even so, Paul's supporters had been expected to push for a greater voice at the Louisiana Republican State Convention in Shreveport, where the party met to decide on delegates to the national convention in August, potentially exposing rifts in the party.
Rick Santorum won the Louisiana Republican presidential primary in March, and Paul finished fourth. But the state has a bifurcated primary and caucus system, and supporters of Paul performed strongly in caucuses held in April.
At the convention on Saturday, Paul supporter Henry Herford, 56, was asked to leave the convention by a representative of the executive board that organized the event, said Shreveport police spokesman Sergeant Bill Goodin.
When Herford refused the request to exit, off-duty Shreveport police officers who were providing security at the event tried to escort him out and he resisted, Goodin said. He was eventually taken away and charged with the misdemeanor crime of entering and remaining after being forbidden, Goodin said.
Herford, who was released after he received a court summons, complained of an injury and was taken to a hospital.
Ron Paul national campaign manager John Tate said in a statement that Herford was "attacked" by security officials.
"Mr. Herford has a prosthetic hip and according to a doctor at the scene it appears as though the prosthetic was dislocated and may require replacement," Tate said.
Louisiana Republican officials had sought to "use illegally adopted rules to deny Ron Paul supporters an opportunity to attend the Republican National Convention" in Tampa, Florida, in August, Tate said.
Representatives from the Republican Party of Louisiana could not be reached by phone or e-mail on Saturday.
(Reporting By Alex Dobuzinskis; Editing by Greg McCune)