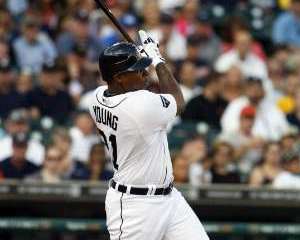 UNDATED (WHTC) - Prince Fielder and Delmon Young teamed to go five-for-nine at the plate and to drive in four runs, as the Tigers salvaged the finale of their series in Boston last night, 7-3. Detroit returns home to Comerica Park for the opener of a three-game series against the New York Yankees this evening. Hear all the action on 1450 WHTC, beginning at 6:40 PM.
After taking yesterday off, both of Chicago's teams are back in action tonight, with the Cubs in San Francisco, and the White Sox entertaining Seattle.
***
Jason King's RBI double capped a four-run rally in the ninth inning, enabling the Whitecaps to overtake host Lake County yesterday, 7-6. West Michigan goes for the series sweep of the Captains at Classic Park in suburban Cleveland this evening.