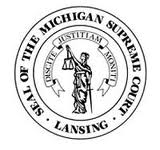 LANSING (WKZO) -- A case involving a suspended Inkster judge is headed for the state Supreme Court.
Judge Sylvia James was suspended in April of last year after being accused of misusing funds. Members of the Michigan Judicial Tenure Commission are fighting to not only have James removed from office but to have her ruled ineligible to run again in the November election.
James' six-year term expires at the end of the year and she is currently one of five candidates on the ballot for the district court seat. It's unclear at this time when the state Supreme Court will hear the case.