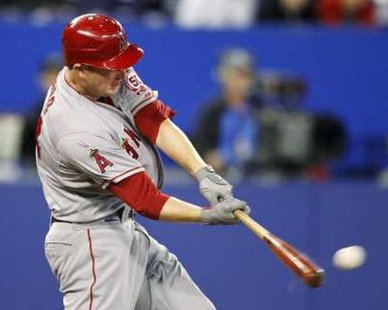 UNDATED (WHTC) - Mark Trumbo and Alberto Callaspo each had a homer and three RBI, as the visiting LA Angels collected five homers and 18 hits while handing the Tigers their first shutout loss in 159 games in last night's 13-0 laugher at Comerica Park. The series in Detroit continues this evening, with coverage on 1450 WHTC at 6:40 PM.
Carlos Lee slugged a grand slam in the fifth inning to help former White Sox manager Ozzie Guillen make a triumphant return to Chicago last night in visiting Miami's 9-5 victory over the Cubs. The series at Wrigley Field continues this evening.
Kevin Youkilis cracked a three-run homer in the fourth inning off of his former Boston teammates, helping the visiting White Sox to a 7-5 victory over the Red Sox last night. The series at Fenway Park continues this evening.
***
The West Michigan Whitecaps open up a six-game homestand at Fifth Third Ballpark tonight with the opener of a three-game series versus the visiting Peoria Chiefs.