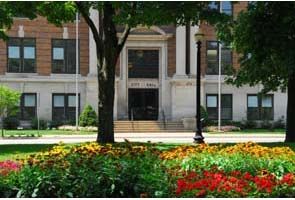 HOLLAND, MI (WHTC) - Council Chambers at Holland City Hall will again be the focus of heightened attention tonight.
Environmentalists and conservationists will converge in numbers and with petitions, urging council members to adopt a long-range energy policy that would steer the Tulip City away from traditional sources such as coal and fossil fuel and have it embrace renewable and sustainable energy. A noontime rally in Centennial Park across the street from City Hall is intended to publicize strong public support for their agenda.
Council will be voting on a Community Energy Plan resolution, involving energy efficiency and conservation implementation strategy, which takes a comprehensive, long-range view of Holland's power future. Mayor Kurt Dykstra says that such a view goes deeper than just the city's energy needs, and warns that Holland could go the way of neighboring Saugatuck in having problems keeping its harbor dredged if it goes away from using coal to power the James DeYoung Plant on Pine Avenue. The Mayor admits that Council is in a no-win situation, for somebody will be unhappy no matter what is decided.
A steering committee would be formed to implement this Community Energy Plan if it is approved by Council tonight.