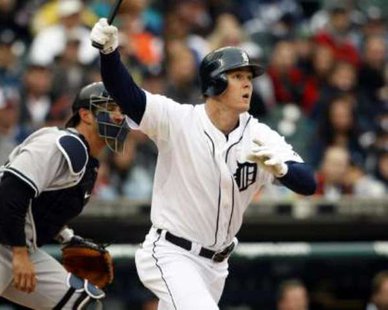 UNDATED (WHTC) - Brennan Boesch's two-run homer in the seventh inning snapped a 5-5 tie, enabling the Tigers to defeat the visiting Los Angeles Angels last night, 8-6. The series at Comerica Park in Detroit continues this evening, with coverage on 1450 WHTC beginning at 6:40 PM.
Off last night, the Cubs return to action this evening with the opener of a three-game series against visiting Miami at Wrigley Field. It marks the return of former White Sox manager Ozzie Guillen to Chicago for the first time since he left the South Side last fall to assume the reins of the Marlins.
Adrian Gonzalez' three-run homer in the eighth inning snapped a 1-1 tie, enabling Boston to beat the visiting White Sox last night, 5-1. The series at Fenway Park continues this evening.
***
Michael Antonio and Tim Ferguson each drove in two runs during a six-run third inning for Kane County, and the Cougars went on to down the visiting Whitecaps last night, 9-5. West Michigan is off until hosting Peoria to begin a three-game series at Fifth Third Ballpark tomorrow evening.