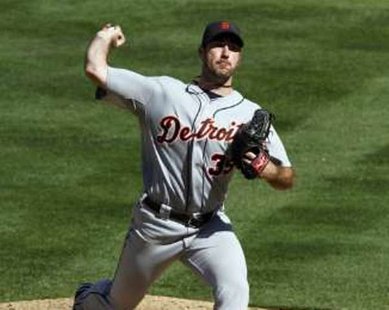 UNDATED (WHTC) - Justin Verlander and Jose Valverde teamed on a four-hit shutout on Sunday, as the Tigers took the rubber game of the series in Baltimore, 4-0. Detroit begins a four-game series against the visiting Los Angeles Angels at Comerica Park on Monday night. Coverage on 1450 WHTC begins at 6:40 PM.
Darwin Barney's two-run homer in the second inning was all the Cubs needed on Sunday to complete a weekend sweep of visiting Arizona, 3-1. Chicago is off until opening a three-game series versus visiting Miami at Wrigley Field on Tuesday evening.
The White Sox got a solo homer from Adam Dunn and scored on a double play ball, but it was enough on Sunday to take the rubber game of the series in Kansas City, 2-1. Chicago travels to Boston for the start of a four game series against the Red Sox on Monday evening.
***
Chad Wright had three hits and drove in two runs, while Zach Maggard slugged a two-run homer, as the Whitecaps on Sunday night won at Kane County, 6-3. The rubber game of the series at Elfstrom Stadium in Geneva, Illinois, outside of Chicago, is on Monday evening.