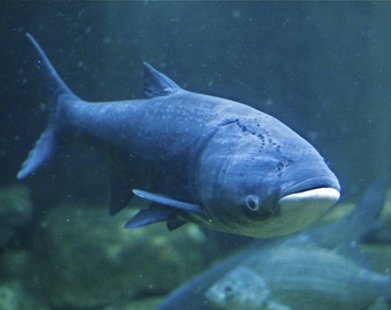 TOLEDO (WKZO) -- A new study out of Canada says the Asian Carp would be a scaly nightmare infecting all of the Great Lakes, and that it could take as few as 20-pair to get thru the barriers and keep on breeding to fill all the lakes with the voracious invaders that push out all local species.
They not only ruin the sport fishing, but make it dangerous to use a motor boat because they fly out of the water, when excited by the motors. There had been some studies that suggested they wouldn't invade the northern Great Lakes because it's just too cold up there, but this new study refutes that finding, saying the Bighead carp could and would thrive in Lake Superior.
It doesn't go into how to keep them out, just presses home the point that we should try very hard to do so, and if we fail, to devise ways to battle them as they invade.
The study comes just as Carp DNA was discovered in 6 of 417 samples taken from Lake Erie last August. That was the first time Carp DNA had been found in a Great Lake. It prompted Michigan Senator Debbie Stabenow to renew her call for immediate efforts to take permanent steps to keep the carp out of the Great Lakes. Stabenow co-sponsored legislation signed by the President just last week requires the Army Corps of Engineeers to act quickly to prevent the destruction of the Great Lakes Ecosystem. It sets an expedited time line for completion of their plan.