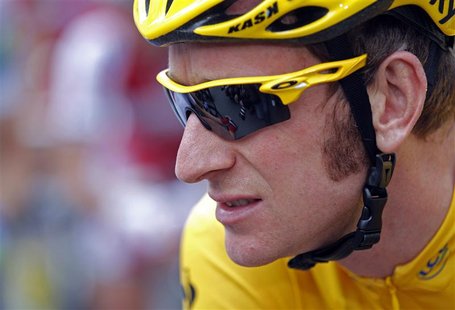 By Julien Pretot
ANNONAY, France (Reuters) - Team Sky will keep Chris Froome in a supporting role and not gamble with fellow Briton Bradley Wiggins's chances of winning the Tour de France, team officials said on Friday.
"It's logical that he (Bradley) should be up there, we're in a perfect situation and we don't want to jeopardize that," the team's sports director Sean Yates told reporters before the 12th stage. "That's the end of the story really."
On Thursday, Froome attacked a group of favorites in the final ascent to La Toussuire with some three kilometers left and had to be reined in by his team in order to preserve yellow jersey holder Wiggins's position.
Both Wiggins and Froome were quizzed on the matter after the 11th stage and even their partners got involved through a spat on Twitter.
With Wiggins in first place overall and Froome second two minutes five seconds behind after he was allowed to play his personal cards in the final meters on Thursday, it was easy for Team Sky to play down the incident.
"Everything is okay. Nothing goes perfectly to plan. I don't want to go into details, there was a little misunderstanding, let's put it that way," said Yates.
Yates had to call Froome back after it became clear Wiggins could not sustain the pace while some other favorites looked able to follow the Kenyan-born rider.
"I did have a way to contact (Chris) but not until after the fact because I did not have a TV. As I said there was a little misunderstanding but it was all ironed out and all is good," said Yates.
SPONSORS' DEMANDS
The incident brought back memories of the 1985 Tour, when Greg LeMond, who was supposed to support La Vie Claire team mate Bernard Hinault, had trouble keeping his foot off the gas pedal.
The following year, Hinault, who was supposed to return the favor, attacked in the Pyrenees but later paid dearly for the effort.
Sponsors, however, are now unlikely to accept such a scenario, according to Yates, who said cycling had changed dramatically since the Hinault days.
"Our goal from the start has been to win the Tour. We need to be conservative, we're not going to play roulette," he said.
"It's not the swashbuckling days of the 1980s. It's more calculated these days and the reason for that is the increasing budgets, the increasing commercialism and the demands from sponsors. They are not in it for the fun."
Team Sky will logically continue to work for Wiggins only, even if such tactics probably cost Froome the Vuelta title last year. Froome finished second overall after losing strength supporting Wiggins, who took third place overall.
"At the moment he's got two minutes up on Froomey. When we look at what's left for us in the Tour then you put two and two together and you come up with Bradley, don't you?" said Yates.
"You could play the Froomey card and send him up in the Tourmalet like Hinault in 1986 and then he blew up and we're not in a game to gamble."
Dane Bjarne Riis, who won the 1996 Tour ahead of team mate Jan Ullrich, said Team Sky could switch leaders.
"It will be interesting in the final week because...I would say that Froome is top favorite," Riis, the Saxo Bank-Tinkoff Bank team manager, told sporten.dk. "They made a mistake during the Vuelta last year."
(Editing by Clare Fallon)