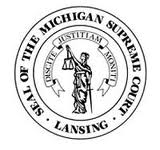 LANSING (WKZO) -- The Michigan Supreme Court will hear a dispute over a case involving the proposed repeal of the state's emergency manager law later this month.
On Wednesday, the state's highest court agreed to hear the case, which has been in legal limbo since a state elections panel rejected petitions to repeal the law in April. The group Stand Up For Democracy opposes the law and hopes to get the recall on the November ballot.
The case is scheduled to go before the court on July 25th.