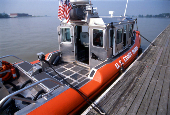 HOLLAND, MI (WHTC) - Seven persons who were attempting late night swims in the waters of Lake Michigan off of Holland State Park had to be rescued late on Saturday night.
In a statement issued on Sunday afternoon, US Coast Guard officials said that crews used life rings and heaving lines from the north pier to get to five persons who apparently were floundering in the rip currents; two others were pulled to safety a short time later. No names were disclosed, and no mention of any injuries were noted by authorities.
The pier and the beach had been closed to swimmers earlier in the evening due to water conditions.