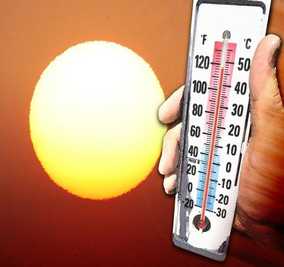 UNDATED (WKZO) -- The Red Cross has announced it will reopen cooling shelters again today at noon. There are two in Kalamazoo at the Douglas Community Association on Patterson and their offices on Venture Court, in Battle Creek at Lakeview Square Mall, and in Gobles at the Merson Church on 102nd Avenue. Emergency Preparedness Director Paul Baker says folks might want to bring a book or magazine.
The Kalamazoo Speedway is calling off its race Saturday night and scheduled fireworks because of the heat, fearing for the safety of the crews, drivers, employees and fans.
You have to go back to the dust bowl days of the 30's to find records of a heatwave like the one we experienced this week. Of course back then there was little air conditioning, but then for hundreds of thousands of Americans who have been without power this week because of storms, that has also been the case.
Friday was another day of record setting temperatures including the105 mark reached in Kalamazoo. With the humidity, it was a feel-like temperature in the late afternoon of arou nd 114-degrees.The extended heat warning goes through 8 this evening.
Several cities in west Michigan set records for the hottest july 5th and 6th on record. Yesterday at 103-degrees, Lansing set an all-time high.
Expect beaches to be crowded and some of the most popular at state parks will close by late morning if not earlier. That has been the pattern this week.
In the past 24 hours, three area highways have buckled because of the heat. It happened along I-94 in Oshtemo Township and near Battle Creek, and on I-96 near Hudsonville in Ottawa County. MDOT scrambled crews to make repairs.
The heat has put everyone's nerves on edge, and increased the consumption of alcohol, which doesn't always help when temperatures soar. Alcohol doesn't work like water. It actually increases dehydration. There has been an uptick in domestic disputes and minor violence cases to local 9-1-1 centers.
Consumers Energy says Friday's record high temperatures came close to setting a new record for energy consumption, but not quite. Customer demand peaked at over 88-hundred megawatts, which was about 100 megawatt below the all time record set last July 21. One reason they may have fallen short was because thousands remained without power following Thursday's storms in eastern and central Michigan.
Yesterday's total was the third highest in the company's 125-year history.Tens of thousands of in Central and Eastern Michigan are looking on with dread to another day or two without power and that means no A.C., no fans and in some cases, no water.