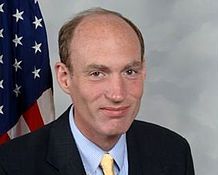 LIVONIA (WKZO) -- Congressman Thad McCotter of Livonia was running for President last year, now he is out of work altogether after his sudden resignation from congress.
It follows what he calls a "nightmarish" month and a half since the petitions submitted to put his name on the August primary ballot were not only ruled insufficient but possibly fraudulent, triggering an investigation.
With somewhat Shakespearean prose McCotter says the "Calumnies, indignities and deceits" have weighed most heavily on his family, saying for the sake of his loved ones he must "strike another match, go start anew, by embracing the promotion from public servant back to sovereign citizen".
That means his district will likely go unrepresented, for a while.
It's not clear if the Governor would appoint an interim with just over 4 months to go before the election.