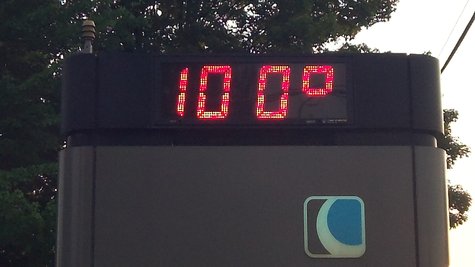 KALAMAZOO (WKZO) -- Kalamazoo topped out at 102-degrees, tying the all time record for the Fourth set nearly a century ago, and generating heat above triple digits for the first time since July 30th, 1999. It was hot yesterday and it may get hotter today and hotter still tomorrow. The Heat warning from the National Weather Service continues for the entire lower half of the Lower Peninsula thru Saturday morning.
So far area emergency rooms have not reported a rush of heat exhaustion or heat stroke cases, but it's a marathon and it could begin creating victims after the cumulative effects of a few days of this heat take its toll.While the heat was a concern yesterday, it's more of a concern today as area residents go back to work. Folks were able to lounge around the pool or stick to air conditioning yesterday on the holiday, but today they may be going back to factories without A.C. or outdoor work, and most have never ever had to deal with heat like this.
The experts say drink plenty of fluids, and if you begin to feel a little fluish, take a rest, find a cool spot and drink something non-alcoholic, de caffeinated and replenish yourself.
While we were baking in an oven, parts of Southeast Michigan was pounded by thunderstorms for a second day, and received so much rain that it just ran off triggering flood warnings. There was baseball sized hail in parts of Isabella County.
The rain delayed the start of the Tigers game. IN west Michigan, there wasn't a cloud in the sky. It's getting to be a familiar and worrisome story, especially for farmers who are seeing their crops stunted by the lack of water, as this freakishly dry period continues.