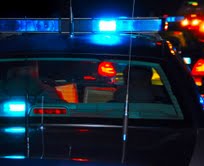 UNDATED (WHTC) - The heat of the early summer apparently wasn't as hot as the tempers of two Lakeshore men in separate assaults over the weekend.
The first occurred just before closing time on Saturday morning outside of Marro's Italian Restaurant on Water Street in Saugatuck, where a 35-year-old man suffered a near-fatal stab wound to the neck, and a 54-year-old man from Glenn was subsequently arrested. Authorities say that the suspect had repeated asked the victim for a smoke, but was repeatedly told that there weren't any cigarettes to give, and an argument ensued. The victim was taken to Holland Hospital in stable condition for treatment of a wound from a three-inch blade that came from a folding-style knife; the suspect was arrested by a patrolling officer moments after the attack.
Around 10 PM on Saturday night, according to Ottawa County Sheriff's Sergeant Brian Buter, a unnamed Holland man went to the Windmill Estates apartment complex off of Felch Street on Holland's North Side to meet a woman outside there that apparently had agreed to loan him some money. During this exchange, the man produced what was described as a large-frame, semi-automatic handgun, pistol-whipped the victim, and dashed off with all of her money.
The suspect fled on foot to the nearby Falcon Woods complex, but his trail was followed by a police canine unit. This track, along with other evidence, led authorities to the suspect's apartment unit. After a brief negotiating session, the man surrendered without incident.
Executing a search warrant, detectives located the weapon in question, seizing it, the stolen cash, and other pieces of evidence. The woman was treated for minor injuries in the assault.
Both suspects spent the rest of the weekend in jail, awaiting arraignment on various charges. No names were immediately disclosed in either incident.