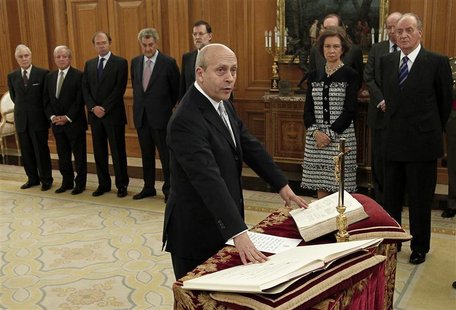 MADRID (Reuters) - Spain plans to take "urgent" action to bring its legislation into line with World Anti-Doping Agency (WADA) guidelines, the country's new Sports Minister said Tuesday.
In a speech to parliament, Jose Ignacio Wert said updating doping rules was vital for Madrid's bid to host the 2020 Olympic Games and the government had already been in touch with WADA since its election victory late last year.
"It is essential that the impact of this law on Spanish judicial procedure is minutely examined as well as the implications it has regarding fundamental rights," Wert, who also has the education and culture portfolios, told legislators.
The government intended to push the new framework through parliament "as quickly as possible" and "reaffirm the commitment to take all necessary steps in the fight against doping," he added.
Some of Spain's highest-profile athletes have been implicated in doping cases in recent years, most notably three-times Tour de France winner Alberto Contador, and there is a perception the country does not do enough to tackle drug cheats.
Contador tested positive for the banned anabolic agent clenbuterol during the 2010 Tour and was cleared by the Spanish federation (RFEC), only for the International Cycling Union (UCI) and WADA to appeal the decision to the Court of Arbitration for Sport (CAS).
CAS said this week it would announce its decision Monday.
In October, Spain's Supreme Court upheld an appeal lodged by the nation's professional cycling association (ACP) against changes to anti-doping rules that were adopted in 2009, saying the government did not adequately consult those affected.
The cabinet had approved the changes to the testing regime in 2009 to address concerns expressed by the IOC in its assessment of Madrid's failed bid for the 2016 summer Games.
Reacting to the Supreme Court's ruling, the IOC said Spain had been deemed compliant by WADA and the government had plenty of time to enact any changes to the testing regime before the 2020 Olympic host city election.
Tokyo, Istanbul, Rome, Azeri capital Baku and Doha in Qatar are the other candidates for the 2020 Games with the winner decided in 2013.
(Reporting by Iain Rogers)