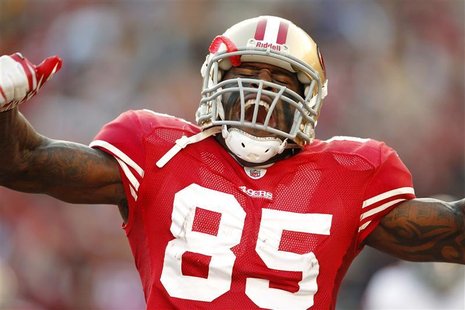 By Simon Evans
(Reuters) - Vernon Davis's reaction to his game-winning catch in the San Francisco 49ers playoff victory over the New Orleans Saints was to break down in tears as he ran to the sideline to hug his coach and celebrate a place in the NFC Championship game.
It was a rare exception to the macho culture of the sport and another reminder of how first-year 49ers coach Jim Harbaugh has created a remarkable team spirit out of a group that had been viewed as woeful underachievers but are now set to face the New York Giants for a place in the Super Bowl.
But it was also a moment that highlighted just how much has changed for Davis, 27, a tight end who was famously, publicly humiliated by former 49ers coach Mike Singletary but is now a key part of the 49ers offense.
In his first game in charge in October 2008, Singletary, sent Davis to the locker room during a defeat to Seattle and then lambasted him in a news conference where he said he would "rather play with 10 people" than with Davis, who he suggested was not a team player.
It was an unusually personal attack for a National Football League (NFL) coach and in stark contrast to Harbaugh's approach.
Harbaugh says the Vernon Davis he encountered at the start of the 2011 season was anything but a problem.
"The only Vernon Davis that I know is the team guy. Is the study hard guy, smart guy, willing to do whatever he needs to do for the team," said Harbaugh. "Put his own statistics, his own accolades aside for the betterment of the team. That's the only one that I know. The evidence is there. It's showered on him. It's been all year for us."
Davis certainly delivered for his team in Saturday's epic win over the Saints. He had 180 receiving yards, the most by a tight end in a single postseason game, and two touchdowns, including the game-winner with nine seconds to play.
The tears at San Francisco's Candlestick Park on Saturday were not the first time Davis's emotions have been on display. He also broke down on live national television when he was taken sixth overall by the 49ers in the 2006 NFL Draft.
"It was a similar situation," said Davis, "It is something that I always wanted and I worked so hard for it."
Clearly, Davis is a different character to the man who came into the NFL.
"You grow up over the years and you just learn, learn how to deal with things in a better way and that's what you see. Just me learning how to deal with it," he said.
Yet interestingly Davis, while clearly a fan of his current coach, gives some of the credit to his old boss Singletary.
Asked by San Francisco radio station KNBR about his changes since entering the league in 2006, Davis said: "Just Singletary, having him around, he taught me a lot. I actually learned a lot from coach Singletary.
"I'm glad he was aboard from the start because I learned so much from him, not just about football, but about life, about being part of a team and I take my hat off to him. I learned so much from him."
(Reporting by Simon Evans in Miami; Editing by Frank Pingue)