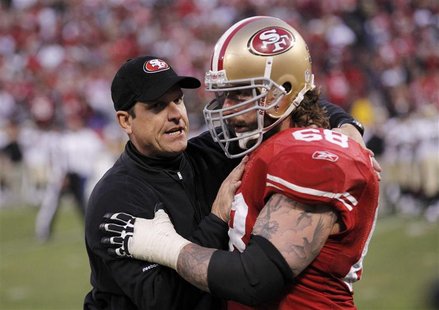 SAN FRANCISCO (Reuters) - Jim Harbaugh, the first year coach of the San Francisco 49ers, could not disguise his delight after watching his team beat the New Orleans Saints 36-32 in a thrilling NFL playoff on Saturday.
A former NFL quarterback with the Chicago Bears and Indianapolis Colts, Harbaugh had already experienced many highs and lows in the game but he had no doubt this was something unique.
"That was special, I don't know if there was anything better than that, I can't remember winning a game in such a spectacular fashion as this one," he said after the 49ers triumphed following four lead changes in a dramatic final four minutes.
"Both teams made plays, we knew it would be that kind of game and that there would be ebb and flow but that we would prevail and make more plays - and our guys executed it," he said.
San Francisco's defense, ranked number one in the NFC, triumphed against the top rated offense in the entire league, producing five turnovers and restricting quarterback Drew Brees, particularly in the early parts of the game.
"They got some spectacular stops, on third down they were outstanding, they got five takeaways ... they very opportunistic and got pressure on their quarterback and made plays on the ball and our guys in the secondary made them.
"It was a terrific job by our defense once again, you just love the way they compete and work hard on the field," he said.
Harbaugh was also full of praise for quarterback Alex Smith who threw for three touchdowns and 299 yards and tight end Vernon Davis who collected on two of those touchdowns, including the superbly executed game winner.
"I thought Alex played really boldly, it might be time to give him a little credit, it was a spectacular performance by him," Harbaugh said.
"We put things in his and our offenses' hands and they really did a great job, learning this game plan and then going out there and executing it."
Saints head coach Sean Payton said the 49ers defense caused his team problems but losing in the final few seconds made it hard to take.
"It is a real good front seven, they can apply pressure with the pass rush," he said.
"It was a good, hard fought game, it is disappointing to lose but both teams played hard, it certainly wasn't a perfect game.
"But it is hard when you get that close and it slips away, it is difficult."
(Reporting by Simon Evans in Miami; Editing by Julian Linden)